Colin Ross Remembers…
Colin Ross remembers life with his Grandmother Dame Hilda [May 2013]
In May 1938, aged six years, I left Southwell Boarding School, where I had been truly miserable for three months. I moved in with my Grandparents, probably at some time during 1938. My recollections of those early years are quite fragmented, but I was enrolled at Hamilton East Primary School, where I stayed until 1945, when Hilda was first elected to Parliament in a bye-election after the sudden death of Mr Frank Findlay. [Findlay died 31 March 1945. He was the National Party MP 1943-45, Hamilton Borough Councillor 1933-44, & Waikato Hospital Board chairman 1938-45]
I have fleeting recall of living with Harry and Hilda as a couple. Before his death in 1940, the household operated smoothly. There was a live-in maid in the house; Harry would walk to work when the weather was suitable. I accompanied him part-way on some occasions. He was affable, gentle company – on good terms with neighbours and passers-by.
Musical activities & much more
Hilda was involved with musical activities, conducting for the Southwell School Gilbert and Sullivan productions, musical evenings at home, and her major interest in the Children's Health Camp at Port Waikato. And Hospital Board, Borough Council, Vestry activity at St Aiden's Anglican Church, Claudelands, and work with Mr W H Paul who was active in the Health Camp and the Waikato Winter Show Association, as well as Beautifying Society activities at Hamilton Lake, Parana Park and Memorial Park.
William Paul
Mr Paul was an invalid. Hilda and I would frequently visit him on a Sunday. They would play cribbage together, and no doubt, organise the direction of their charitable interests.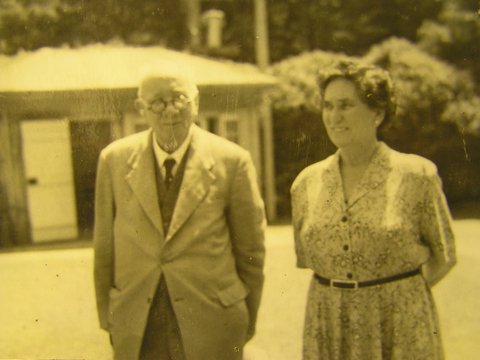 A spirited driver
Hilda would visit her parents in Mt Roskill on a regular basis. She was an accomplished driver (somewhat spirited). I enjoyed these excursions. I recall her boasting that Hamilton to Mt Roskill was "Ten minutes under two hours". On one occasion I encouraged her to show me what it was like to "go up to 60 MPH please Nan-nan". No problem!
The War years
After Harry's death in 1940, with WW2 being a dominant feature of daily life, she was able to exercise her considerable talents to organise and lead by example. My uncle Colin took command of Barton and Ross after Harry's death, but when he enlisted for overseas service, Hilda had extra responsibilities in that area.
Her activities during the war are well documented. Her "Girls" as she called them, kept her busy, although I was never quite sure of their function. But they had uniforms, they marched, and I recall her saying that she had transposed the musical scores to suit the Band which was to play one of their marches.
Port Waikato Health Camp
I attended most of the Health Camps at Port Waikato during this time. There were two intakes, each of about two weeks, as I recall, and I stayed, with her over the whole period. She didn't actually do the cooking for the camps, they had a paid cook (Mrs Troop), but Hilda had a firm hand on the organising of duties and nutrition.
Family Background
Her background was from an Irish Catholic family in Onehunga. This gave her a very practical down to earth training in real life. Her attitude was always towards protecting the interests of children. Family disputes were commonplace, especially during the Depression years. Her grandfather Adam was a Fencible who came to Onehunga in 1847. His son James, became a notable local politician in Onehunga, and raised a large vociferous family. They are both buried in the Catholic Church Cemetery in Church St Onehunga.
Hilda's father Adam was an active member of the early Labour party and a staunch Union advocate. He died in 1946; I remember him quite well. Hilda's mother Zillah lived until 1949. She and Adam are interred in the Hillsborough Cemetery. I was very fond of them both, and did some restoration work on their headstone before I left Auckland.

Parliament
Her Parliamentary service and her progress within the system caused some changes to her personality. She was operating on a broader stage, with considerable professional back up and assistance. She was popular with MP's on both sides of the house. Miss Mabel Howard was the only other female MP. They didn't become close friends, but they were well able to work together, especially in relation to issues regarding Women and Children.
In opposition, when Walter Nash was introducing the universal Child Benefit to the House, Hilda made a point of reminding Mr Nash that "Of course this benefit will be paid to the Mothers, won't it Sir". He readily agreed.
After 1945, I spent four years at New Plymouth Boys High School as a boarder. Holidays varied between Hamilton with Hilda, and Auckland with my father. In 1950, I was apprenticed to a Pharmacy in Mission Bay, from which time my close connection with Hamilton pretty much ceased, although I continued a warm relationship with Hilda until her death in 1959.
She was truly delighted to have been presented with two great-grandsons, and I regret that she died before she had a chance to know them better.